An unusual sight has caught the attention of the scientific community and locals alike: a rare white humpback whale was spotted swimming off the coast of Fingal Head near Coolangatta, Australia.
Brayden Blake, a 16-year-old local, captured the extraordinary footage, fueling rumors that this could be a descendant of the celebrated white whale, Migaloo.
Every year around this time, Migaloo – a humpback named after the indigenous term for 'white fella' – is expected to migrate northward along the eastern coast.
Yet, Thursday's sighting of a white humpback hints at the existence of another rare white whale, leaving experts intrigued.
The discovery of a potential second white humpback has prompted excitement among scientists, raising questions about whether this could be an offspring of Migaloo, who has yet to appear this season.
Marine specialist Dr. Wally Franklin shared his enthusiasm with Nine, suggesting this might be an 'incredibly rare' second albino whale among the eastern Australian humpbacks.
"It's the first time that the white whale I'm observing could be another white humpback apart from Migaloo," said Franklin.
He further noted that the timing of the sighting, being early in the season, aligns with the whale being younger.
Migaloo, distinguished by the unique knobs on his dorsal fin, is expected to arrive in the area in late June or early July.
Suppose this new sighting is indeed another whale. In that case, it adds an extra layer of fascination to the already intriguing white humpback narrative.
Brayden, the teenage drone operator who also conducts shark surveillance for Surf Life Saving NSW, was out paddling and surfing with a friend when he heard a peculiar noise.
Returning home to fetch his drone, he recorded the extraordinary sighting of the white humpback frolicking with a pod of dolphins.
"I've encountered regular humpbacks before, but this one was distinct. It was white every time it surfaced for air," he told The Guardian.
Annually, from May to November, humpback whales journey from Antarctica to northeast Australia's warmer waters to mate and calve.
Migaloo, despite being one of an estimated 40,000 migrating humpbacks, stands out due to his unique pigmentation.
First spotted in 1991 near Hervey Bay, Migaloo has intrigued researchers with its coloration, believed to be the first of its kind among eastern humpback whales.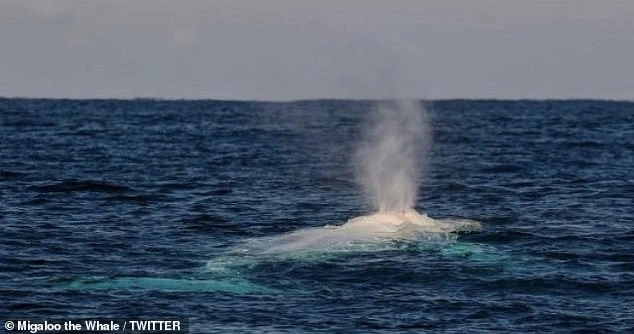 The mystery surrounding whether Migaloo is an albino or leucistic whale, characterized by a lack of pigment but colored eyes, adds to his allure.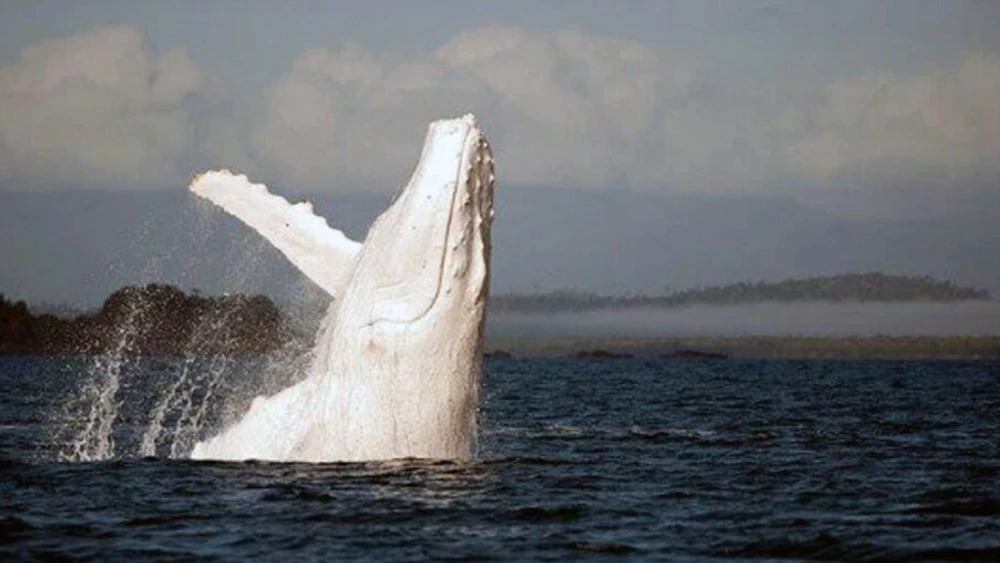 ---
Read more Wildlife News.